Generally speaking Midtown Manhattan's northern boundary has always been well defined- 59th Street, the start of Central Park- but its southern boundary has always been much more amorphous. Depending on who you were asking, the southern boundary of Midtown could extend all the way from 34th Street to 14th Street. Numerous neighborhoods comprised Midtown, among them: Hell's Kitchen, The Theater District, The Garment District, The Meatpacking District, The Flatiron District, Chelsea, Union Square, and Gramercy.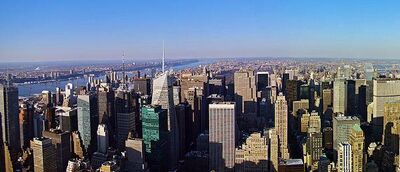 Back during Pre-War times, Midtown was the largest business district in the entire United States. Not only was Midtown America's largest commercial, entertainment, and media center, but the area was second only to Lower Manhattan in terms of importance in the finance industry. Numerous multinational corporations made Midtown their corporate headquarters, and several countries placed their embassies in the area- Argentina, The Bahamas, the People's Republic of China, Costa Rica, Germany, Ireland, Israel, Jamaica, Japan, Luxembourg, Mexico, Morocco, Saudi Arabia, Singapore, South Africa, Taiwan, the UK, and the Ukraine.
The region was also home to many landmarks known worldwide, including the Empire State Building, St. Patrick's Cathedral, Penn Station, Grand Central Station, the Chrysler Building, the New York Public Library, the United Nations Building, Madison Square Garden, the Waldorf-Astoria, and Times Square. Midtown was home to most of Manhattan's skyscrapers- according to local legends, the reason for this is because the bedrock in the area is stronger than that of the bedrock in Lower Manhattan or points north. Six of the ten tallest buildings in Manhattan were clustered in Midtown.
When the Great War ended and nuclear havoc fell from the skies, Midtown was devastated. Manhattan was identified as the financial and cultural center of America- despite not being the capital of the nation- and as a result, the borough received the heaviest amount of bombing. Certain protection measures, such as anti-missile defense systems meant to intercept and stop incoming missiles and bombs worked as intended but the total tonnage of payload that the Chinese dropped on Manhattan simply overwhelmed such systems. When the smoke cleared, most of Midtown Manhattan was almost totally rubble.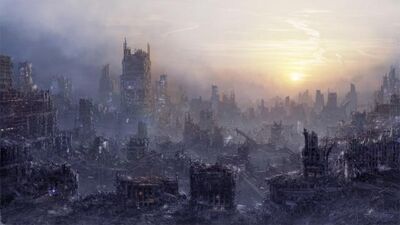 In the years since the Great War, humanity has adapted. Slowly but surely, life has returned to the area. Now known as the Concrete Jungle- a play on the common nickname of large cities and the fact that the ruins of Midtown resemble something of a jungle, with concrete and iron instead of vegetation. The densely packed rubble makes traveling north-south nearly impossible overland, making it necessary to use of underground passages such as subway tunnels or interconnected basement pathways. Those that elect to travel through the ruins of Midtown are presented with numerous dangers, such as falling debris, radioactive pockets, attacks from members of the Skyscraper Tribes living in the hollow shells of still-standing buildings.