Summary
History
Pre-War
Post-War
Economy
The people of Globe Town primarily engage in scavenging, and their farming and animal husbandry are subsistence level at best. The real driving force of the economy here is entertainment. Along with distant Penwell, there is simply more ways to have a good time in Globe Town than anywhere else in the Midessa Compact.
Notable Places
The Coliseum
The sturdy coliseum once hosted arena football and other sporting events. Though it was damaged in the aftermath of the Great War, its squat, concrete construction served it well. It mostly serves the same purpose now as it did before the war, though it also hosts the local market.
Dos Amigos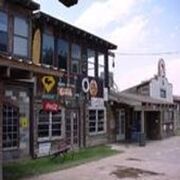 This bar hosted rodeos and live music prior to the war. By some miraculous stroke of fate, the building survived the Great War and subsequent years of neglect and fierce weather. The residents of Globe Town have restored the building, not a difficult task since it was never the most elaborate structure, and returned it to its original purpose. It is one of the most popular destinations in the ruins of Odessa and draws acts from across the wastes, including The Arrangement.
Globe Theater
Originally known as The Globe of the Great Southwest, it is a replica of Shakespeare's renown theater. It is this landmark that has given the community its name. Though damaged in the course of the Great War, the Rocker Movement has taken great pains to repair and restore the building.
Government
Globe Town is subject to the bylaws of the Midessa Compact.
Culture
Layout
The nearest communities are Mesa about 5 miles to the east, Penwell 17 miles to the southwest, and Notrees 23 miles to the northwest. The theater is on the southern edge of the community and Dos Amigos is on the northern edge, nearly 2 miles away. The coliseum is east of the other major locations in town, roughly between them. The residents occupy clusters of ruined buildings between these three locales, these groupings have walls surrounding them.