Imperial

General Information

Location:
Permian Basin, Texas
Establishment:
Post Office opened in 1910.
Disestablishment:
N/A
Population:
Usually 0
Notable Individuals:
Factions:
Pecos Regulators
Notable events:
Unknown
Current status:
Serving as a cache site.
Imperial was a remote little town with little to offer besides the isolation. Untouched by war and barely afflicted by the elements, it might be a town again one day.
History
Pre-War
Imperial was to be a farming village, complete with an irrigation canal dug from the Pecos River in the early 20th Century. The salt content of the land proved too high, however, and the town never quite took off. Creative souls took to shrimp farming, and the area experienced extensive exploitation by the oil industry.
It was a place of stark beauty, where those uninterested in living in large towns could survive fairly inexpensively; stocking up on occasional trips to Odessa or Fort Stockton.
The town eventually depopulated when gasoline became prohibitively expensive, forcing the mostly poor residents to relocate to Odessa.
The War
Imperial was a ghost town by the time the Great War took place. A few survivors of the immediate aftermath picked through the town before dying in the wasteland.
Post-War
Attempts by wasteland wanderers to settle the ghost town have been stymied by the Sand Hills Tribe of Monahans or other raiders. The tribals themselves sometimes use some of the buildings as temporary camps and have created a few supply caches. The tribals drive out the unwary, but aren't prepared to protect the ghost town from dedicated settlers (or desperate banditos).
The Rockers of Fort Holly have a vague interest in Imperial; they have records suggesting that some Pre-War locals had a band called "Thumping Puppies," that had released an album. Far from famous, the Rockers' interest in finding curios of the band is to illustrate to the people that music was not just the purview of famous Saints like Holly or Orbison.
The Pecos Regulators sometimes use the ghost town as a hideout to plot their false flag operations. They've so far avoided any problems with the Sand Hills tribals, but their presence is not appreciated or desired.
Layout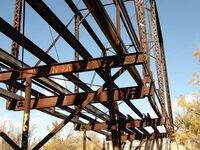 Imperial is far between I-10 and I-20, with no ready access to either. It is some 30 miles south and slightly east of Monahans. "Downtown" Imperial is a cluster of small Mexican-styled buildings centered on a crossroads. The largest building in town is an old High School that actually served much of Pecos County. Other buildings include a small, redbrick library and a post office of similar design.
For miles around beyond the crossroads are various small houses, ranches, and oil infrastructure. The terrain is mostly flat brushland, but there are hills of dry earth. Much of the countryside is still divided into huge lots differentiated by deteriorating barbed wire fences. There's no readily available water, though small brine ponds might tempt the ignorant.