New York, the Empire State, was the 11th state to be admitted into the United States of America. It is bordered by New Jersey and Pennsylvania to the south, and Connecticut, Massachusetts, and Vermont to the east. Its capital was Albany.
Geographic Regions
New York City
C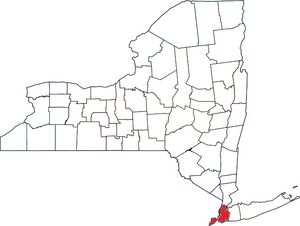 omposed of Brooklyn, Queens, Manhattan, the Bronx and Staten Island, New York City was the most populous city in the United States, and a diverse center of commerce, finance, media, art, fashion, technology, education, entertainment, and culture. Now, it is a ruined shell of itself.
Sites & Settlements
Active Groups & Organizations
Long Island
One of the largest islands in the world, Long Island stretches some 118 miles from New York Harbor to the Atlantic Ocean. Strongly influenced by its proximity to New York City but distinct enough to have its own character and identity, Long Island developed from backwoods and farms into populated suburbs with the development of locomotives and automobiles.
Sites & Settlements
Active Groups & Organizations
Upstate New York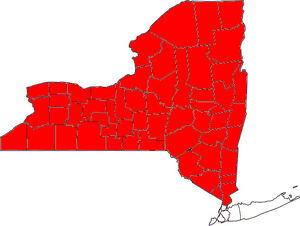 From Niagra Falls and the shores of Lake Ontario to the Hudson River and the Catskill and the Adirondack Mountains, Upstate New York is an ecologically diverse region comprising most of the actual state. The people of New York City and Upstate New York often had a contentious relationship due to very different values, with residents of the five boros and Long Island regarding Upstate residents as country bumpkins and residents of Upstate New York regarding their downstate cousins as elitists.
Adirondack Wasteland
Catskill Wasteland
Sites & Settlements
Active Groups & Organizations
Finger Lakes Wasteland
Hudson Valley Wasteland
Sites & Settlements
Active Groups & Organizations
Niagara Wasteland
Ontario Wasteland
Sites & Settlements
Quotes
"New York is a woman holding, according to history, a rag called liberty with one hand and strangling the earth with the other."
―Ali Ahmed Said