Ohio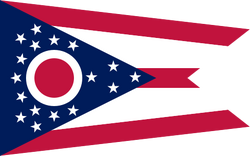 General Information
"With God, all things are possible"
―State Motto
Ohio
, the Buckeye State; was the 17th to be admitted into the
United States
, and part of the East Central Commonwealth. It is bordered by
Indiana
to the west,
Michigan
to the north,
Pennsylvania
and
West Virginia
to the east, and
Kentucky
to the south.
Quotes
"The climate of Ohio is perfect, considered as the home of an ideal republican people. Climate has much to do with national character.... A climate which permits labor out-of-doors every month in the year and which requires industry to secure comfort—to provide food, shelter, clothing, fuel, etc.—is the very climate which secures the highest civilization."
―Rutherford B. Hayes
Ad blocker interference detected!
Wikia is a free-to-use site that makes money from advertising. We have a modified experience for viewers using ad blockers

Wikia is not accessible if you've made further modifications. Remove the custom ad blocker rule(s) and the page will load as expected.