Pennsylvania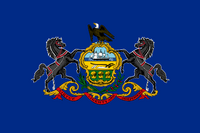 General Information
"Virtue, Liberty and Independence"
―State Motto
Pennsylvania
, the Keystone State, was the 2nd state to be admitted into the
United States of America
. It is bordered by
Delaware to
the southeast,
Maryland to
the South,
West Virginia
to the southwest,
Ohio to
the West,
New York
to the Wast, and
New Jersey
to the east. The state capital was Harrisburg.
Geographic Regions
The Cornfields
The Cornfields are located in the southeast of the state. Once known as Pennsylvania Dutch Country due to the presence of the Amish, the region has incredibly rich soil suitable for farming. As the name implies, corn is the primary crop of the region, and miles upon miles upon miles of the area is nothing but cornfields.
The Lakelands
Located north of The Pitt, Lake Country is bordered to the north by Lake Erie and Lake Ontario, two of the Great Lakes.
Mountain Country
Pennsylvania's northeast is home to numerous mountain ranges, including the Poconos, the Endless Mountains, the Appalachians, and the Catskills. A rugged region, the Susquehanna River carves a path through the region and is important to transportation.
Ad blocker interference detected!
Wikia is a free-to-use site that makes money from advertising. We have a modified experience for viewers using ad blockers

Wikia is not accessible if you've made further modifications. Remove the custom ad blocker rule(s) and the page will load as expected.