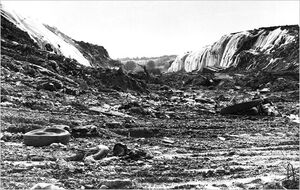 The Shaolin Wastelands compose most of the interior of Shaolin, the New York City boro formerly known as Staten Island. Known during Pre-War times as the Fresh Kills Landfill- or, more commonly, the Staten Island Dump, the Shaolin Wastes covers over 2,000 acres in the center of the island.
The site of Fresh Kills Landfill was originally a tidal marsh, with numerous tiny creeks and rivers running tributary to the Arthur Kill. The site was selected because it was in a remote location, with very few residents or commercial activities nearby. The Staten Island Dump was opened in 1947, and was originally supposed to be a temporary landfill, but it became the city's primary destination for refuse in the second half of the century, as rising costs to transport garbage simply made the site too attractive and useful to not utilize. The city sent so much garbage to the site that it was at one point the largest landfill in the world, one of the largest man-made structures in the world, and according to local urban legends, could be seen from space. At the peak of its operation, more than 650 tons of garbage were added to the landfill every day, carried on barges navigating the Arthur Kill.
In the aftermath of the Great War, radioactive fallout in the air and water exacerbated the latent radioactivity and toxins in the Fresh Kills Landfall, multiplying them exponentially. The radioactivity on the site became so great that even ghouls became sickened. In effect, the radioactivity made the site of the former dump uninhabitable. That did not stop people from attempting to enter the ravaged landscape. Rumors of Pre-War treasures and technology attracted them, but few if any ever actually found what they were seeking. The Shaolin Wastelands are littered radiations suits, left over from men and women who thought that the gear would be enough for them to brave the radiation.