South Dakota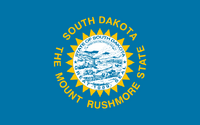 General Information
" Under God the people rule"
―State Motto
South Dakota
, the Mount Rushmore State, was the 40th state admitted to the
United States of America
. It comprises the southern half of the
Badlands Territory
.
Locations
Quotes
"We hold on to hopes for next year every year in western Dakota: hoping that droughts will end; hoping that our crops won't be hailed out in the few rainstorms that come; hoping that it won't be too windy on the day we harvest, blowing away five bushels an acre; hoping ... that if we get a fair crop, we'll be able to get a fair price for it. Sometimes survival is the only blessing that the terrifying angel of the Plains bestows."
―Kathleen Norris
Ad blocker interference detected!
Wikia is a free-to-use site that makes money from advertising. We have a modified experience for viewers using ad blockers

Wikia is not accessible if you've made further modifications. Remove the custom ad blocker rule(s) and the page will load as expected.