The Big Easy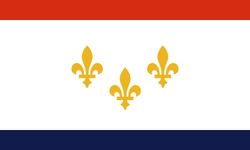 General Information
"Leaving New Orleans also frightened me considerably. Outside of the city limits the heart of darkness, the true wasteland begins."
― John Kennedy Toole, A Confederacy of Dunces
The Big Easy,
The Land That Care Forgot
, is the island in
Louisiana
containing the ruins of New Orleans and its suburbs (Bogalusa, Kenner, and Metairie among them). The Big Easy is surrounded by a mire formed when the lakes Borgne, Pontchartrain, and Salvador flooded beyond capacity. It has taken centuries of labor to keep the island from sinking into the gigantic swamp around it.
The land has a deserved reputation for debauchery: from the bawdiness of a Vieux Carré honky tonk to the pomp of a Tuloya fête. Liquor, music, and soft company draw in travelers from as far away as the Corpse Coast and the Gold Coast; not to mention points further north.
Characters
Factions
Fauna
Flora
Locations
Ad blocker interference detected!
Wikia is a free-to-use site that makes money from advertising. We have a modified experience for viewers using ad blockers

Wikia is not accessible if you've made further modifications. Remove the custom ad blocker rule(s) and the page will load as expected.