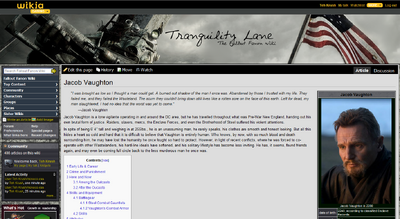 New skinz, made by me, expect it to be default soon. Comments? (This is why the logo has magically disappeared and the colors for the main page and user page template have changed).
Update: It is the default now. Yay. Oh and don't worry, clicking near the brotherhood of steel knight will bring you to the main page still.
If it isn't showing up, do one of the following.
Internet Explorer: hold down the Ctrl key and click the Refresh or Reload button, or press Ctrl+F5.
Firefox: hold down the Shift key while clicking Reload; alternatively press Ctrl+F5 or Ctrl-Shift-R.
Opera users have to clear their caches through Tools→Preferences
Konqueror and Safari users can just click the Reload button.
Chrome: press Ctrl+F5 or Shift+F5
Also, if you're using an older version of the custom skin (the beta I gave out) then go to User:[ur name here]/monaco.css and remove everything, then do one of the above steps.
Ad blocker interference detected!
Wikia is a free-to-use site that makes money from advertising. We have a modified experience for viewers using ad blockers

Wikia is not accessible if you've made further modifications. Remove the custom ad blocker rule(s) and the page will load as expected.