Welcome, Brengarrett!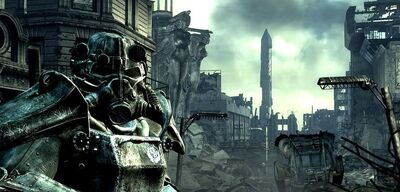 Hi Brengarrett, welcome to the Fallout Fanon Wiki! Feel free to edit and contribute some of your own Fallout Fanon. However, do not remove important information while fixing others' articles, and do not continue others' articles without first asking the authors.
Recent changes is a great first stop, because you can see what other people are editing right this minute, and where you can help.
Questions? You can ask at the Help Desk or on the "discussion" page associated with each article, or post a message on an Administrator's talk page.
Want to get off to a good start?! The About page has some basic information on the site, check our Community Portal page to help you learn how to edit. You may also contact this wiki's administrators.
Remember that you should always sign your comments on talk and vote pages using four tildes, like this: ~~~~
We are really happy to have you here, and look forward to working with you! If you have any problems ask us, post a topic in the forum, or ask one of our administrators.
So go on out, grab some templates, and start your Fallout Fanon journey now!
One Last Thing
Brian Harmon //--TehK (tok) 16:01, 22 August 2009 (UTC)
heh, impressive.....better then what I could ever do. Pity, I could have used him better, ironicly it was Maria who killed him....damn never should have made that raider girl, he could have still lived. Oh well live and learn. Fairwell, until we meet again--Brengarrett 16:11, 22 August 2009 (UTC)
Hello everyone
http://www.fanfiction.net/s/5435984/1/The_Wasteland_Life
I've been writing this story for a while. figured I show my work. It isn't the best story but I came here because a lot of things were inspired by you guys. Just came on to say that.Brengarrett 21:38, June 28, 2010 (UTC)
Thanks for sharing. I'm OvaltinePatrol, one of the new admins. I joined more or less at the same time you started scaling back your activity here.--OvaltinePatrol 16:50, June 29, 2010 (UTC)
I left because things wearn't working out, ask Run4, he can explain things better ^_^ Brengarrett 17:55, June 29, 2010 (UTC)