Vermont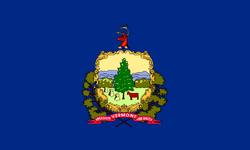 General Information
"Freedom and Unity"
―State Motto
Vermont
, the Green Mountain State, was the 14th state to be admitted into the
United States of America
.
Quotes
"Vermont is a state I love. I could not look upon the peaks of Ascutney, Killington and Mansfield without being moved in a way that no other scene could move me. It was here that I first saw the light of day, here that I received my bride. Here my dead lie buried, pillowed among the everlasting hills. I love Vermont because of her hills and valleys, her scenery and invigorating climate, but most of all, I love her because of her indomitable people. They are a race of pioneers who almost impoverished themselves for love of others. If ever the spirit of liberty should vanish from the rest of the Union, it could be restored by the generous share held by the people in this brave little State of Vermont."
―Calvin Coolidge
Ad blocker interference detected!
Wikia is a free-to-use site that makes money from advertising. We have a modified experience for viewers using ad blockers

Wikia is not accessible if you've made further modifications. Remove the custom ad blocker rule(s) and the page will load as expected.